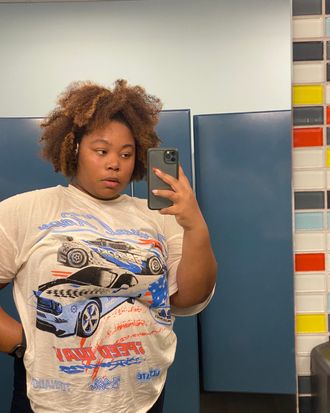 Photo: courtesy of Tembe Denton-Hurst
I started working out in earnest in January of this year. It isn't my first time getting in the gym. I was an athlete all throughout high school, and I trained in fits and starts during college. The hardest thing for me has been consistency and making it a part of my daily routine. This go-round, I've been able to go to the gym four to five times a week for six months, my longest streak so far. Weight lifting has become a practice for me, similar to yoga or Pilates for some people. I enjoy the repetition and pushing myself to get better. But I've always liked it; I've just never been able to stick to it. What's made the biggest difference this time is getting an in-person trainer at my local Blink Fitness and following a bunch of TikTok fitness girls who wear Instagram-famous workout clothes and dry scoop their supplements. Populating my feed with fitness fanatics has pushed me to go to the gym more, mostly because I feel virtually peer pressured by everyone around me repping out set after set.
During the pandemic, like everyone else, I bought lots of home-gym equipment: a stepper that permanently lives under my couch, many (many) booty bands, a few kettlebells, and lots of light free weights. I already owned a variety of workout clothes thanks to previous gym stints, but this time was different. This time, thanks to the women of TikTok and Instagram, I was being influenced. Not only was I taking notes from their workouts, I was also taking notes on their style and everything they used during their workouts. Courtney was tucking her oversize shirt into the back of her sports bra? Well, then, so was I. Alissa Ashley was wearing perfectly loose long sleeves to the gym? Me too. Leanna Deeb was working out in just a Nike sports bra and three-inch-inseam running shorts? I'm not there yet, but maybe one day. Everyone was drinking Celsius and Oxyshred from EHP Labs — I ordered a bunch of both.
Not all of this happened overnight (thankfully), but I did buy a lot of things over the past six months — some of which I truly couldn't live or exercise without, some of which became irrelevant shortly after I purchased it. Currently, I work out four to five times a week, mainly lifting weights, walking, or jogging. All of my gear works well for that, but it might not be ideal for a different exercise like spin or Pilates.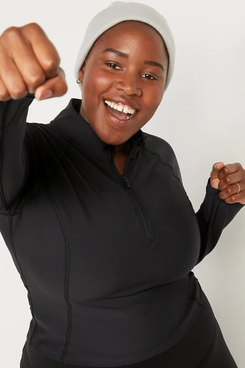 I have been obsessed with Old Navy activewear since I was in college, so I've been singing its praises to practically anyone who will listen for years. Not only is its activewear affordable, it doesn't pill or stretch out, and it lasts forever. I've been wearing some of my bras for going on five or six years now, and they've held up through many washes and workouts. Prior to this leg of my workout journey, I mostly worked out in T-shirts from random events on campus or oversized tees I got from various volleyball camps in my adolescence. But I wanted to step it up. I wasn't ready to go full Gymshark (I also am not thrilled by the feel of seamless fabrics), so I picked up these quarter-zips from Old Navy to test the waters. I now own three and will probably buy a fourth. It's one of my most commented-on pieces at the gym, and there's always a slight shock when I tell my fellow fitness freaks that it isn't from Lululemon or Alo or even Fabletics. The fabric is thin but not see-through (Old Navy's PowerSoft is the brand's best fabric, period), and it's warm without being suffocatingly hot. I've worn the quarter-zip weekly this summer and have felt just as comfortable as I did in the winter. It's also slightly compressive, which creates a seamless, "snatched" look. As far as length goes, it stops right at my natural waist, so if I reach up or wear a legging that doesn't come up as high, a little tummy shows through.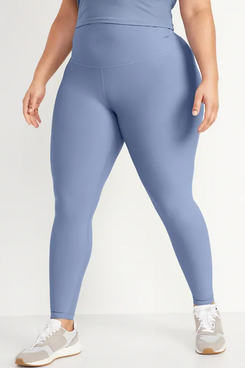 I like my leggings high-waisted — like almost underneath my boobs high-waisted. I don't have to worry about them falling down, and if they do, there's a long way to go. These come up very high and stay up. I don't have to constantly re-adjust during a workout and can walk, jog, and lift with ease. I also like these because they're made of the same material as the quarter-zips, so they have that same slightly-compressive-but-not-restrictive quality. Old Navy releases and retires new colors regularly, so there are lots of options to choose from.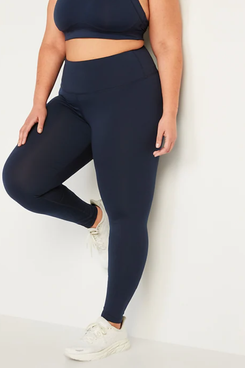 I also bought a few pairs of these, which, if you've been wearing Old Navy leggings for a while, are closest to their OG fabric. Old Old Navy leggings had a heft that helped them hold up well over time, hold you in, and stay in place. As I've evolved in my workout journey, I've started to opt for thinner fabrics (like the PowerSoft), but these are great, especially if you're doing a lot of jumping around or lifting. They're also squatproof (meaning your underwear won't peek through), so if that's a concern, a thicker fabric like this one would be ideal.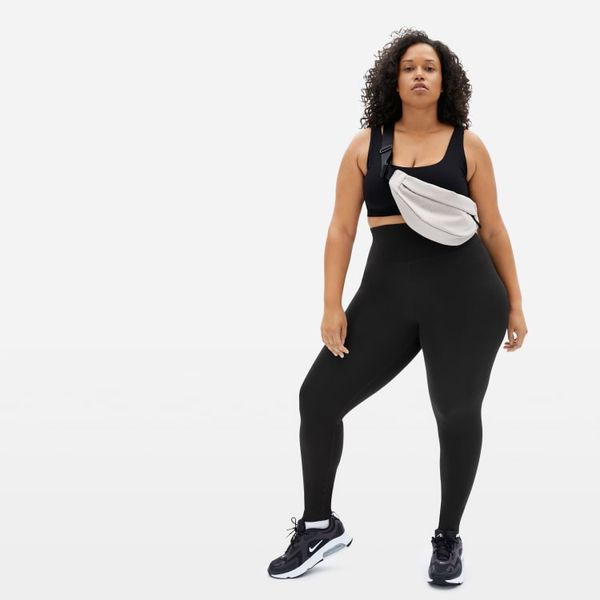 If I had to rate my leggings by what I'm most excited to see come out of the wash, these would be at the top of my list. These are the leggings that I compare all others to, the benchmark of truly excellent legging engineering. First, the fabric. Of all my workout gear, Everlane's fabric is my favorite. It's thin but compressive and high waisted. These suck you in just the right amount, and the resulting effect is a tiny-looking waist and a plump butt — a win-win. They're made from a blend of recycled nylon and stretchy elastane, which together makes for a very comfortable fit. They feel like premium workout gear, and I automatically feel fancier for wearing them. I have bought a couple pairs over the past few months, and whenever there's a sale or a new color available, I pick up another. The one downside to these leggings (and where I give the slight edge to Old Navy) is that I've experienced just the slightest bit of pilling in a pair I've owned for a little over a year. It isn't drastic, but it does make me wonder what will happen to them five or six years down the road with weekly use.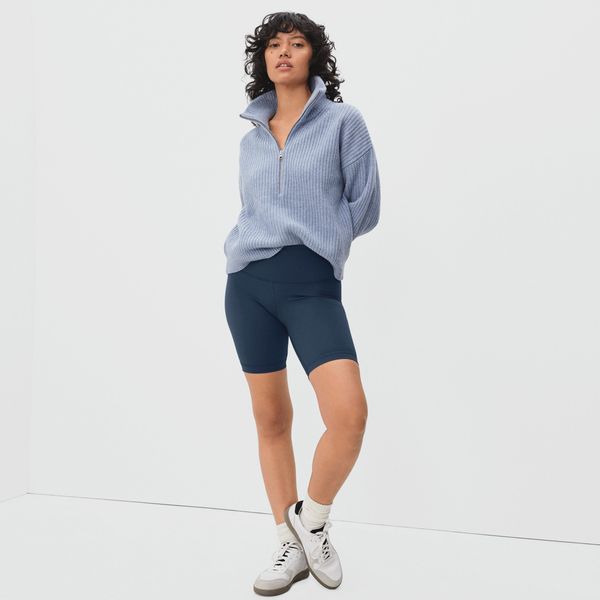 I've always liked shorts in the gym (a holdover from years of wearing volleyball spandex), but these have turned it into a preference. I also like that they have a fairly long inseam (eight inches). I have thick thighs, so anything too short will cut me off in a weird place and give me that sausage-leg effect. These do not do that. The colors are also beautiful and unique. My favorite shade of the moment is Atlantic, a deep greenish-blue, but Pear, a bright green, is a close second.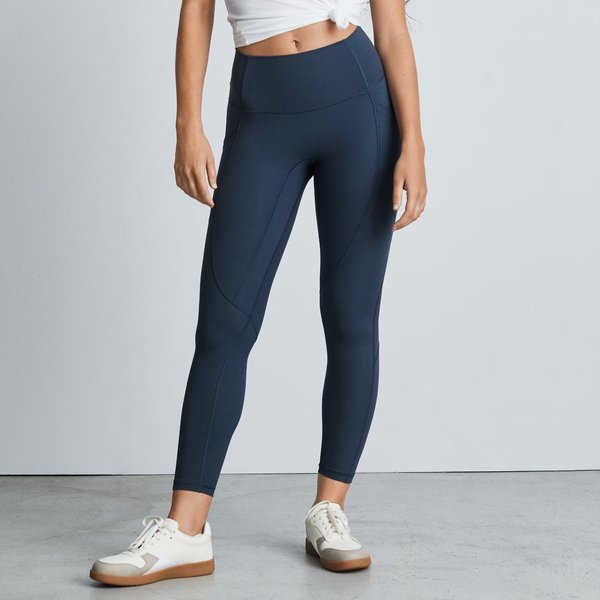 During an Everlane activewear haul, I picked up these leggings on a whim because they were on sale. I have experience with the regular Perform leggings (my favorite leggings of all time) and expected these to be the same, just with pockets, but they're slightly different. The pocket leggings are a little less compressive than the regular leggings and even the bike shorts, so they don't suck you in as much. I love these for casual walking, and the pockets are (unsurprisingly) a very convenient touch. They're final sale, so if you decide to buy them, they're yours to keep.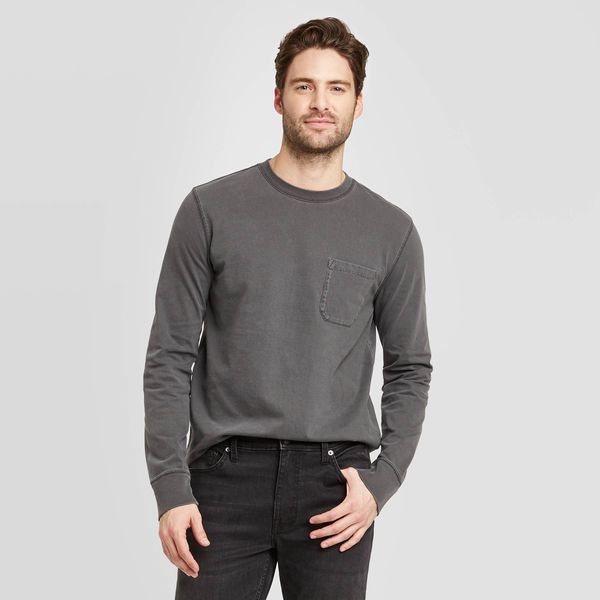 Finding a good T-shirt can be difficult, something we've dedicated many articles and man hours to here at The Strategist. So attempting to find an oversize long-sleeve shirt that was tuckable, well constructed, and soft to the touch was a daunting task. I went through many rounds of shirts before settling on this one from Target, which ticks all of my boxes. It's made from a heavyweight cotton, which is nice when it's cold out and not so nice when it's hot. There are lots of colors to choose from, but my favorite is Black Heather, a charcoal gray that pairs nicely with my various Everlane leggings. I purchased it in a XXL because I wanted an oversize fit, and it definitely delivers. The shoulders are a bit droopy and the front hangs in a very shapeless way that covers the tops of my legs. This makes it perfect for scrunching the sleeves up to the elbows and tucking into my bra. A very casual-but-I've-been-here-before look.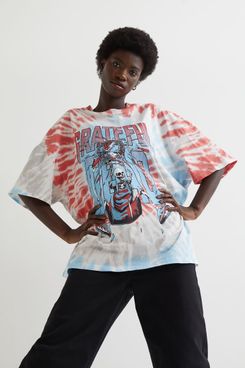 Another popular look in the fitness-girl universe is the band tee with your bottom of choice. Most of my concert merch is too nice or too expensive for the gym (shoutout to my Rihanna Made in America T-shirt from 2016, which gets better with every wash), so I wanted something that would give me that look without the price tag. Enter H&M. It has lots of T-shirts that do exactly that and are pretty decent quality. I picked up the tie-dye Grateful Dead one on a whim and have been happy with the way it has held up in the gym. Just don't ask me about any of their songs. I know none.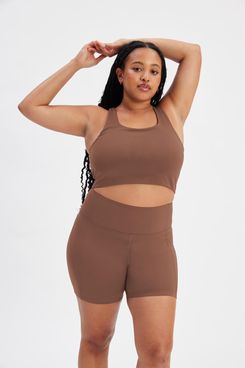 I'm a 38H, so a good sports bra is a requirement for me. There are a few things I look for. First, a long-line silhouette: A tiny cropped sports bra doesn't compress me in the necessary ways because of the volume of my breasts. Long-line options give me a little more room. Plus, that cut creates a nice shape because you can pull it down so far. Secondly, hold. I'm realistic, so I know there's no single sports bra that's going to hold me still while I'm sprinting (for that I wear two or at least a bra and a built-in bra camisole), but I need to be able to jog without pain. The Paloma bra from Girlfriend Collective does both of those things. The colors are great, the fabric is good, it's comfy, it's supportive. I've tried other options, and I come back to this bra every time. Plus, when I one day decide to remove the pump cover (gym speak for T-shirt), I can feel good about wearing this one on its own.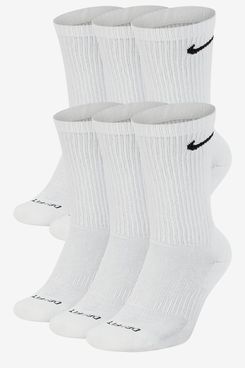 Following a good sports bra, good socks are essential. I only wear white socks, and I like for them to be pretty minimal but still sporty. I don't have particularly sweaty feet, but I am picky about thickness. I've cycled through a few different activewear brands (Hanes were too chunky, Champion had the worst fit), but Nike wins every time. Its socks are comfy on the foot, slightly compressive, have the right amount of chunk, and stay in pretty good shape over time.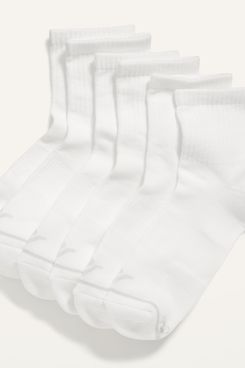 The only thing better than Nike socks are Old Navy quarter crews, which have become my preferred sock. They're a bit thinner than the standard Nike sock and are made from a ridiculously soft fabric that I want to wear long after I take off my sneakers. I'm a longtime sock scruncher, but the height on these have made me a quarter-crew fan. They hit at the perfect spot on the ankle, and the lack of extra fabric looks rather sleek over a pair of leggings or bare skin.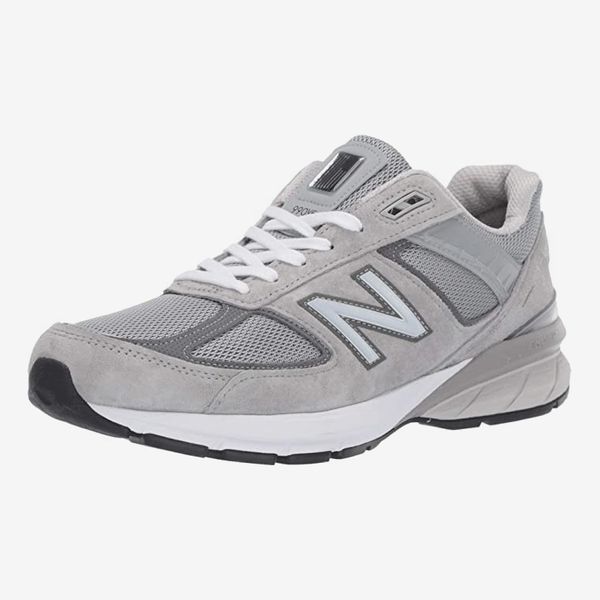 On the shoe front, I cycle between two pairs: New Balance 990s and the Cloud X's. Currently, I favor my New Balances, which give me incredible support and are supercomfortable to walk in. I wear a gray pair, which goes nicely with everything and transitions easily from the treadmill to the squat rack. I like that it comes in a bunch of different widths (from X-Narrow to XX-Wide). I have a wide foot, and the wide width fits me like a glove.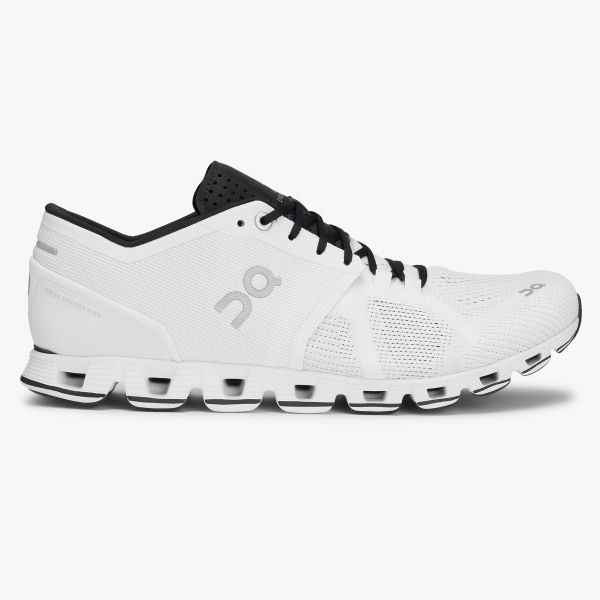 At one time, I was obsessed with my On Clouds, and while I still think they're generally a good shoe (the first time I wore them, I was impressed by the weightless feel), I don't like the laces. Seems like a small thing, I know, but I hated having to retie them throughout my workout or feeling like they were getting looser as I moved. And because I have a wider foot, I noticed that this pair is a bit narrower, so I was never sure if I was getting the most comfortable fit from it.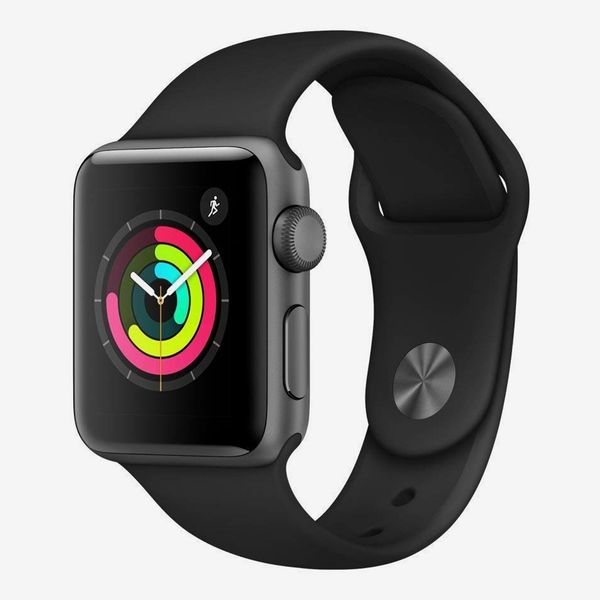 I was very resistant to wearables after a Fitbit a few years ago made my wrist break out, but when my partner gifted me this a few months into my workout journey, I decided to give it a try. It has become a must-have for me at the gym (so much so that I will go back to get it if I leave it behind). I like being able to see the intensity of my workouts in real time, and it's fun to challenge myself to close my rings. I also like that I can change my music without having to pick up my phone, which helps me stay focused on the workout rather than what I'm listening to.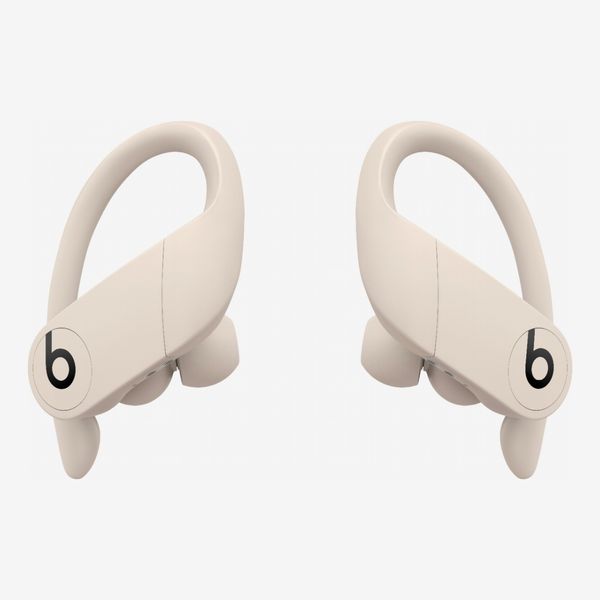 To stay locked into my workout, I always look for things that won't disrupt me — whether they're pants that won't fall down or headphones that will stay in my ears. In the beginning, I was a devoted AirPods user, but I always worried about how they were sitting in my ears. I would have to readjust them every few steps, making it harder for me to concentrate and push myself to the next level. It took a good length of time with imperfect headphones for me to finally take the plunge and buy the Beats, which, at $200, seemed pricey. But from my first workout with them, I noticed the difference. I can do anything in these headphones and they don't move. Plus, they come with lots of ear-pad sizes so you can custom-fit them. The sound quality is good (though they're not noise-canceling like my AirPod pros, so I do have to make them louder to block out ambient sounds), and they stay charged for a long time. I never have to worry about them dying mid-workout or even after days of forgetting to charge them.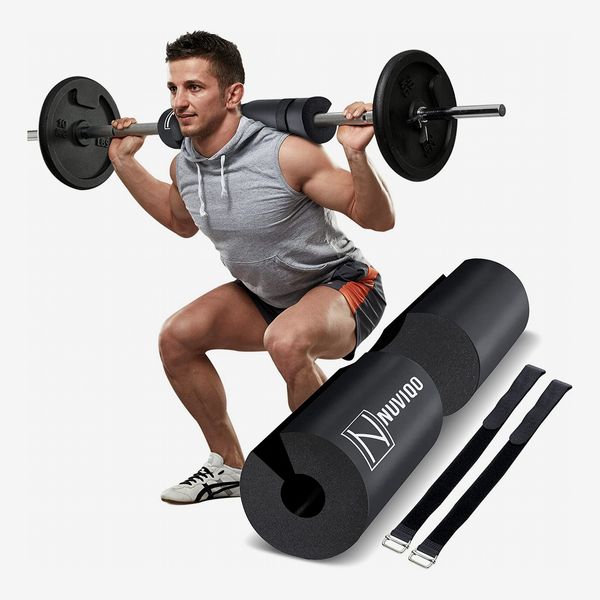 If you've ever tried to hip-thrust a significant amount of weight without padding, then you've experienced the unique pain of a barbell digging into your hips. This pad helps with that. I've used yoga mats, but this is less bulky and easier to set up. Once you place it around the bar, it won't move, and it provides enough cushioning that you won't feel the hundreds of pounds anywhere but your glutes.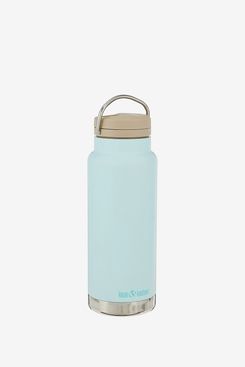 I went through lots of water bottles before settling on this one from Klean Kanteen. I was on the hunt for something that would keep my water cold (insulated), had a straw (because I like to sip), and had some type of handle for lugging it around. It was also important that the straw be flexible; I became obsessed with CamelBak a bunch of years ago before moving on because the spout is impossible to keep clean. I ended up finding this one at Target. Thirty-two ounces is a decent amount of water (enough to get me through a workout), and even though it's big, it fits into the water-bottle slot on the treadmill so I can always keep it handy. It even has a sliding mechanism, so when you're not drinking, you can tuck the straw away. It's ideal because it keeps the water cold but ensures that there isn't a bunch of germs all over the straw.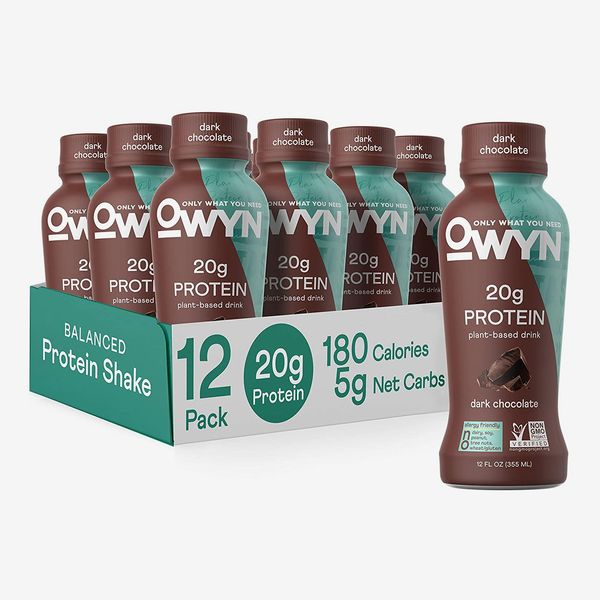 A few weeks into working out, I realized I needed to get my protein levels up. All the fitness girls were drinking protein shakes, so I figured I'd try one out too. I picked up one that we wrote about here at the Strategist but found I didn't like the flavor (or mixing up my own shake). I bought this one at the gym and ended up ordering a case on Amazon after my first few sips. I'm not a big chocolate fan, but this one isn't offensively chocolatey or too sweet. I also like its thick texture, which makes me feel like I'm drinking a dessert. It keeps me full for about 30 minutes, which buys me a little time to prepare a post-workout meal or snack.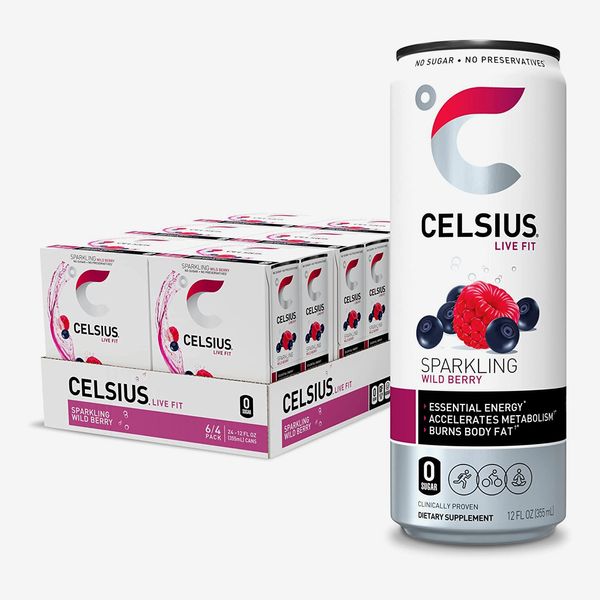 The fitness girls are also all drinking supplements pre-workout, whether they're dry-scooping, mixing, or sipping from a can. Celsius is a popular brand (always hanging out conspicuously at the edge of a frame), and there are a ton of flavors. It's sold at my gym too, so I grabbed one before a workout, just to see. I was pleasantly surprised at the taste. I tried Fuji Apple Pear, which tasted like sexy apple juice. I felt more energized during my workout but not jittery, and I didn't feel a noticeable crash afterward. I buy this by the case too and switch up the flavors from time to time. Currently, I'm drinking Peach Vibe, but before that I was hooked on Sparkling Wild Berry and had a brief affair with Sparkling Grape. I get excited about testing new flavors. I have an Arctic Vibe waiting for me in the fridge.
The Strategist is designed to surface the most useful, expert recommendations for things to buy across the vast e-commerce landscape. Some of our latest conquests include the best acne treatments, rolling luggage, pillows for side sleepers, natural anxiety remedies, and bath towels. We update links when possible, but note that deals can expire and all prices are subject to change.